Hey everyone,hope you had a great weekend?Here's hoping that this week is off to a flying start. So yeah,we attended the Nigeria's Top Model Event...and blogged on Saturday about the winner...uber short post!...and the first thing we have to say about the show is that the modelling was "On Point"!!! No,
2face
wasnt there,neither was
Omotola
nor
D'Banj
...;-) but there were a few highlights.
Performances:
There were performances from
Tavian
who sang the national anthem...
Chocolate Blonde
(she's apparently got a music video that will be played on MTv soon)...oh my days this girl came up n started singin a song nobody knew but when she and her dancers started bustin moves to a faster version of "Candy Shop" the crowd was so hyped and it was indeed a good performance to get the show started,
Benz and Rims
, a Calabar dance troupe and
Kas
also performed...and his performance was prob'ly the most memorable,his dancer had the whole male attendees in awe and some of the females ones too wiv her booty clap and shake...teww mad!!!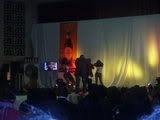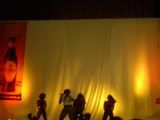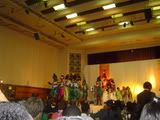 The Catwalk:
...The girls modelled in 4 stages; 1st off in casuals...white tees and skinny jeans, 2nd--"Gele" still with their white tees, 3rd--Bikini...this part was so funny, trust naija guys now...wen the girls turned to walk off, guys were screaming cos of their butts...it was so funny! and the last stage was in Couture designed by
Adebayo Jones
(apparently there was no time to change into the
Deola Sagoe's
designs). Typical stuffs happened like a model fell...she probably must have bin embarrassed but she was actually not laughed at!Lol...Overall it was an alryt show but bearing in mind that it was a first timer,i'm sure the next one will be better...we enjoyed it cos the 'Model' we were rooting 4 won!!! You can catch the show lata on
BEN TV
sometime this week...but as that channel rarely ever follows the order of programme,u myt be lucky to switch on and catch it...and you can watch live streams online now
here
4 u guys outside the UK.Here are just random pictures from the show, we r waitin on the professional pics from the producers...but we'll put it up as soon as we get 'em.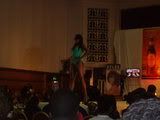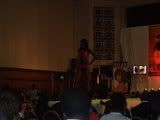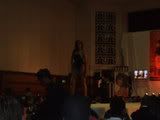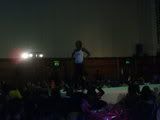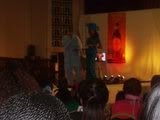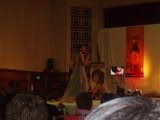 For a naija event,it was virtually hitch-free...well apart from the naija tyme (the show started at 10.30 instead of the advertised 7...lol) and a fyt that threatened to blow up at the end...didnt find out what it was about...we got the hell out of there!!!
Here are also the pics of the winner and runner ups:
BIMI ADEGOKE
: WINNER(
This picture is copyrighted,please DO NOT use without PERMISSION)
PEACE OYIBO
: 1st runnerup (
This particular picture is copyrighted,please DO NOT use without PERMISSION)
IVIE OKHIONS:
2nd runner up
Have a great day,and we will put up the proper pictures as soon as we get them!!!