Hey everyone,hope you had a great weekend?Here's hoping that this week is off to a flying start. So yeah,we attended the Nigeria's Top Model Event...and blogged on Saturday about the winner...uber short post!...and the first thing we have to say about the show is that the modelling was "On Point"!!! No,
2face
wasnt there,neither was
Omotola
nor
D'Banj
...;-) but there were a few highlights.
Performances:
There were performances from
Tavian
who sang the national anthem...
Chocolate Blonde
(she's apparently got a music video that will be played on MTv soon)...oh my days this girl came up n started singin a song nobody knew but when she and her dancers started bustin moves to a faster version of "Candy Shop" the crowd was so hyped and it was indeed a good performance to get the show started,
Benz and Rims
, a Calabar dance troupe and
Kas
also performed...and his performance was prob'ly the most memorable,his dancer had the whole male attendees in awe and some of the females ones too wiv her booty clap and shake...teww mad!!!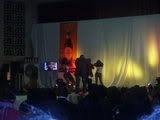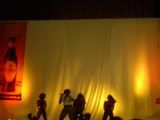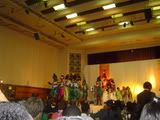 The Catwalk:
...The girls modelled in 4 stages; 1st off in casuals...white tees and skinny jeans, 2nd--"Gele" still with their white tees, 3rd--Bikini...this part was so funny, trust naija guys now...wen the girls turned to walk off, guys were screaming cos of their butts...it was so funny! and the last stage was in Couture designed by
Adebayo Jones
(apparently there was no time to change into the
Deola Sagoe's
designs). Typical stuffs happened like a model fell...she probably must have bin embarrassed but she was actually not laughed at!Lol...Overall it was an alryt show but bearing in mind that it was a first timer,i'm sure the next one will be better...we enjoyed it cos the 'Model' we were rooting 4 won!!! You can catch the show lata on
BEN TV
sometime this week...but as that channel rarely ever follows the order of programme,u myt be lucky to switch on and catch it...and you can watch live streams online now
here
4 u guys outside the UK.Here are just random pictures from the show, we r waitin on the professional pics from the producers...but we'll put it up as soon as we get 'em.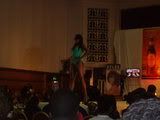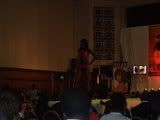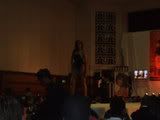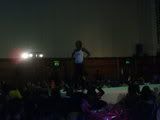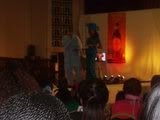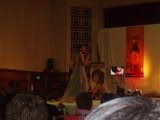 For a naija event,it was virtually hitch-free...well apart from the naija tyme (the show started at 10.30 instead of the advertised 7...lol) and a fyt that threatened to blow up at the end...didnt find out what it was about...we got the hell out of there!!!
Here are also the pics of the winner and runner ups:
BIMI ADEGOKE
: WINNER(
This picture is copyrighted,please DO NOT use without PERMISSION)
PEACE OYIBO
: 1st runnerup (
This particular picture is copyrighted,please DO NOT use without PERMISSION)
IVIE OKHIONS:
2nd runner up
Have a great day,and we will put up the proper pictures as soon as we get them!!!
Comments:
NV sumtns wrong with pics
i cant nlarge 'em

it looked lyk a good show tho
hey can we get better pictures of the girls at least more nfo about the 3 winners and all...i hope u feature more on the winners...nice work vixen
The Olabimitan girl is HOT! Good choice
how come omosexy,Dbanj n tuface no show face..abi did the organisers just use thrie name to sell tickets..
The top three look good...good stuff! Missed ur blog!!!
The winner as well as the other girls look good, but whatsup with the top pictures, i cldnt get a larger view.
Funy, how tuface and co didnt perform, and yeah heard of that kas guy, i didnt think he was that good when i first heard his song.

Nice post!!
the girls are all absolutely beautiful... its good to know you had a great time vixen.. you know i love yalls blog
Most of you have read my posts on the Nigerias top model's group and indeed on my facebook.
For the last 3 months i have vermently defendended and campaigned tirelessly for somebody else's dream which i belived in.
The person is question is a lady called Sandra Whalberta Powers( if that indeed is her real name, she has a sister named Claudia who went to Coventry university alumni 2001, u might know of her)
She approached a talented friend of Mine Z(Ngz), who is the creative director and indeed brains behind ZEDEYE fashions(a kitsch uk fashion brand)with her vision of Nigeria's Top Model.
Miss Powers who has no experience in the Fashion world( Girls, hr favourite fashion items were a pair of Pink Joggers, grey high heels and a pinstripped blazer)and worked in project mangement, sought Z's console and help in this matter.
Miss powers is very persuasive as she is loud, she also speaks 3 languagues,is quite witty and has the gift of the gab, basically a sweet talker,basically full of SHIT!
My mate Z then gets me and another friend of mine onboard and we meet with Sandra. Throughout the turbulent weeks ahead, we found that most of the things we were being told were untrue or half true but soldiered on as dont belive in starting and not finishing...we continued, on with the show..
3 weeks before the competition on the 27th, the girls had nothing to show..( they had only done 1 photoshoot over 3 months, taken time off work and studies, transported and fed themselves to and fro to rehearsals e.t.c)
Instead she took them round TV stations on talk shows not about the Models or the competition but on Business Women and Women in Business. The models pretty as they were sat in silence like throphies while she wabbled on about how fabulous and hard working she was.
Finding her unbearbale and uneasy to work we, my friends and i talked things over as we were the ones with the connections and reputations in the UK( I got Select Models on Board as well as a friend who is the 6th most influential person on the high street in the Uk and shopping editor of Grazia Magazine, as well as the Fashion editor of the Daily Mirror and Pride magazine as judges at the competition, My friend Z negotiated the 15 outfits that were given to us by the really nice Adebayo Jones, while my other friend D, got Gulder and Gusiness to sponsor the event as well as the Mayor of London's office to support this event)
We confronted Sandra with our fears as she had turned out to be a one woman army by taking which ever of the models wherever she wanted, she then rebuffed each of us at different stages and so we all quit at different stages, but stayed on for the good of the show and indeed the girls. She thens promptly informs us on Monday that her partner had collapsed, she became unreachable for 2 days!!! we have 4 days before the show

Fast Forward to 2 days before the show, we confront Sandra about payment( she had paid me£300 at this time less than a quarter of my fee)and about the fact that the Artists Billed on the flyer . A friend of mine from Blacknights entertainment who basically run things in the Najia circle when it comes to partyinghad told me earlier thathe had spoken to TUFACE's manager and that they would not be attending the event. She was well aware in due time tha TUFACE would not be present so please sue her for an invitation to treat on the flyer, u could earn some quick cash if u have actually used ur money to pay for an event that didnt deliever what it promised on the flyer.

Also we found out that Sandra hadnt even paid the production company therefore the Hall for the evnt wont be ready until late on Friday, the day of the event!!

We then confronted Miss Powers about this and she denied this just like judas did Jesus, 3 times before the end of the night!!
That same evening, the girls are supposed to be staying all together in a hotel (this is thursady the 26th)we get to the Hotel and Miss had her Credit Cardsssssss Rejected, in the end she managed to pay for the girls for a nite, but theyhad to feed themselves and were warned by Sandra order anything at your peril!!

I had sent sandra an email demanding my final payment and she had insulted me, so once again i quit. The manipulator gets on the phone and starts crying and begging me with her Manly voice, blah blah blah....Being the fool i was i told her not to worry, On with the show( Sandra, incase u are reading this with ur evil heart, FYI i have ur emails, phone messages, everytime we dicussed money i recorded).

My friends and i (3 muskertees in this fucked up scenario) decide that the girls have to eat something so we take them to a chinese buffet round the corner which even though Sandra Paid for, was the least she could do.
While we were there, she asked one of the models out for a chat and held her prisoner for over an hour whiLe she went on an on).

Earlier that day, sandra had told Z and I that she wanted Ivie Omo out of the contest, when we asked her why, she gave us a shitty answer, MY PARTNER DOESNT LIKE HER!! Rewind to last week, we were on a promotional walk in PRIMROSE HILL trying to drum up publicity, there were 15 contestants and 5 other people that needed to be transported to the HILL, the drives up Sandra's Man in his HUMMERRRRRR.

Sandra then instructs IvIE AND 2 other chics to ride with her boyfriend to the park , i am not sure what happened there or after that, all i know is after this incident she started hating on IVIE O( NTM GIRLS, U CAN BACK ME UP ON THIS, IAM SURE). The afternoon of the 27th, Sandra comes in to the dressing room( its 6pm, the stage isnt even ready and the doors open at 7pm)and wants another worddddd with Ivie and asks her to LEAVE...

This caused a major unrest and Z quit once again and we all began to pack up our bits and bobs, there was uproar as Z didnt hold back and asked Sandra to tell us, infront of the contestants why she wanted to kick Ivie out of the competition after she promised she wasnt going to?? she couldnt answer, she culd only mange to string a few sentences to a very vexed Z in IGBO.
We give her an ultimatum as everything draws to a holt( Hair dryers off, make up artist case shuts, Irons unplugged e.t.c)
We lether know that either Ivie is in or we are OUT!!

After much persuasion from the MC(I forgot his name but he was really nice and was cheated by the FRAUDSTER too, he like i cried out of pain, he had lost his dad 3 weeks ago and took the gig as MC to raise some funds for the funeral, u BITCH\!!!) We soldier on, Calm the already nervous girls down, did i mention that they were asked to sell tickets too and were not even allowed free tickets for their friends and family!!!

The show is running 2 hours behind schedule and there are no drinks about, Sandra Powers had decided to sell the 20 crates of Guiness that MY friend D had secure for free!)
The judges( From Select, Grazia and Pride) i had brought, were sat at the table for 2 hours as well as everybody else in the audience waiting for the show to start.
The contestants , Z and i are backstage finishing off hair and make up and getting into their outfits, i ask one of the models to run down to the bar to get some drinks as we were all parched, she comes back and tells me that they had asked her to pay for the bottles of water. so i go downstairs to the bar and demand drinks to which i am met with the same reply. by the bar, i notice the Witches Partner so i turn to him 4 hep but he acts like he hadnt a clue what i was talking about, WE HAVE TO BUY WATER FOR THE MODELS

The show carries on but behind the scene tempers are fraying, The production team, hostesses,ushers,The hair and make up team( who were brought together by Z) were thirsty and did not like the way they had been treated as they too had been refused water, its now 10pm, there is absloutely no where near the venue to get water from) also there is tension between Sandra and I as well and Z. Even the GELE woman was upset, she had been at the venue since 5pm, it was late and she hadnt been paid for her services, she had work at 5:30 am the next day.

,We were pissed off, just wanted to get through the show, Sandra faffs about another change of clothing( after all, the event is all about her not the MODELS) and then goes on stage to make a speech, forgetting to thank anythibg or anyone who had actually BUSTED THEIR GUTS to make the show credible and indeed a success.

Then the show ends..................Ola wins, that's it. she doesnt speak to the girls, no after care, she has just VANISHED.

She has also refused to pay me £600 she owes me, the £1200, she owes my mate Z and the £400 she owes my other friend, she also owes our lovely photographer friend Charlotte Kibbles lots of money too( see www.charlottekibbles.com, she is great)
since the event i have been in touch with all the contestants and indeed the winners who feel quitely bemused and let down as SANDRA POWERS has left them high and dry.
Ola the winner isnt even sure if she will get any of the things the winner was promised, the only thing she has gotten is the Ticket to Nigeria which was free from Virgin Nigeria which was acquired by Matthew Mensah.... Thanks.

I have left her loads of messages and emails to no avail, that's why i am letting everyone know how this lady has ripped me and many other people who believed in this thing off.

Its not really about the money( thankfully i have a good full time job to compensate) but its about how let down i feel about this.

I have been working quite successfully in the UK as a fashion stylist and PR manager for over 8years, i have never done anything towards fashion in Nigeria or indeed Africa before (Apart from Deola Sagoes NEW LOOK BOOK and campaign shots) this was my first time.

I was intially very proud to be part of this but now i have been left HIGH AND FUCKING DRY, i feel quite hurt. This is just why as Nigerians we never get anywhere, we always try to cheat or out smart everybody else.

The real winner of this Sham Model serach that i am ashamed to have been involved with is SANDRA WHALBERTA POWERS( aka lady with the fake name)
she made money from the ticket sales and the drinks as well as a chance of being the business woman of the year, i imagine she is running for.

MY HEART GOES OUT TO THE 15, U KNOW WHERE I AM IF U WANT TO CHAT
Arietafashionista@gmail.com i completely understand where you are coming from. Its people like Miss Powers that make nigerian people not believe in nigarian events.

I was at the show and i was back stage a couple of times. I found on eof the girls crying in the toilet downstairs. I spoke to 2 of them and they were all frustrated and upset. I really do hope that the winner at least will get something out of all this.
Wow! What a very very very informative insight to what was really going on.... From your experience, Miss Sandra seems quite untrustworthy and unreliable but let's not judge too harshly.... All we need now is her own side of the story.

As for the show, I have to say I have to commend all the organisers even more, knowing that it wasn't all rosy behind closed doors. In spite of all this, the show went on 'smoothly enough' for an observer to notice 'only a few hitches'. Let's keep trying and we'll get better at this, Nigeria!

NV, Just keep your eyes peeled for updates ;-) When the time is right, the site will be unveiled:-)
Wow! this is awful.But its one of those things u say 'I KNEW IT'.the first time i saw the interview on bentv i knew it was fool of crap,but i gave the benefit of the doubt carried my pretty ass down there for the show which was just scattered to be honest and now i understand why.Oh well! Arieta sorry o! i can imagine ur pain.anyways thanks for the heads up at least now we know who sandra is,incase of any next brilliant ideas she comes up with...hahaha
Arietafashionista@gmail.com, I am very sympathetic with your situation

However, you know that with this comment:
"This is just why as Nigerians we never get anywhere, we always try to cheat or out smart everybody else."

You are indirectly saying "I as a Nigerian can never get anywhere, I am always trying to cheat or outsmart everybody else"

What's my point? While you are very hurt by what this lady did to you be careful what you say so that you do not indirectly "curse" yourself.
Thanks count sky for your comments and indeed everbody else who has hollered.
I am not after pity, i just wanted the whole FUCKING world to know what MISS Powers has done.

There are 15 Girls walking around in limbo presently, trying their best to make sense of the issue.Some have lost their jobs due to their commitment to the show.

After the show at 4am in the Morning, one of the girls who had travelled down to london from winchester, was spotted wondering the streets, trying to find a bus or a cab to take her to the station, which by the way doesnt open until 7am.

There was no after care, as after the show MISS POWERS didnt even address the girls as they walked into the Night not knowing how to get home as NTM failed to provide them with neither accomodation or transport.

So say, God forbid! something happened to the girl who was wondering the streets, i think you would agree with the statement i made about Nigerians.

I am not saying that this applies to every Nigeria but if the shoe fits.

Re: Cursing myself, that is not the case as i am too decent a human being to treat anybody this way. This is the reason why i am speaking out, i could have kept quiet and dealth with the situation like any london kid would do and get my cash back but this is for everyone who was involved and now feels short changed!!

SPREAD D WORD PEOPLE, this is the only way u can help this situation.

xxx
Na wa this Arieta ur story na waya...pele..That sandra woman is a frigging ripp off.these are the kind of pple that give nigeriabs bad name...e wo
Arieta, I am deeply sorry to hear this, unfortunately there are unscrupulous people who are so greedy and desperate for money that they will stop at nothing. They also have no qualms in using and exploiting others. I know because I have been on the receiving end of people like this. I feel for you Arieta but please do not let it make you bitter because then you will allow them to win. Learn from the experience and remember that for every scumbag there is a gem behind them. You sound like a lady who has a lot of drive and talent so stay strong.
Arieta, chill off.. u can't be serious.. who the hell is this babe..
as in really..
Light skinned and hott,

i am not mucking u about oh, i know this story is straight outta the movies type shit,but it happened for realllll.

XX
Having done all to stand I will stand.

It is not a sin to have a vision.
It is not a sin to share that vision.
It is not wrong to believe that no matter what life throws at you, you can and will overcome.
A lot of people though the NTM event would not go ahead and in the face of the most seemingly insurmountable of obstacles it has.
It is not the first time that one would be verbally decapitated by people who one had trusted so much but sure enough, it is the most painful to date.

Arieta Mujay was brought on board as PR for the NTM event and having done her best to garner the best of PR for us, she had put pen to paper and is now from all accounts doing her best to garner the worst. What good such vitriol will do – I am at a loss to say.

Having being recommended by a lady whose business judgement I had trusted, it fills me with sadness to see how the hands that built a home (NTM) can deign to scatter the home.

To all that wonder who this blogger is, let me let you in on the secret, this is Sandra – the show organiser for the NTM event.

Yes there were pressures, yes it was our inaugural event, yes our post-mortem says that there are a number of things we will correct the second time round going forward, yes there were doubters who didn't think we could pull this off, yes we DID pull it off.

How something so beautiful could end up as a medusa – ugly and vile – I don't know.

True the following apply;
I may have deep voice
My partner may drive a hummer
I have a sister called Claudia

But the following do not apply;

I am not aka as anything other than Sandra Powers
I am not full of SHIT, not a witch, a bitch or a fraudster
My favourite articles of clothing are not pink joggers, grey heel or pin stripped blazer – I hasten to add Arieta this could well be pot calling kettle black – my sense of style is certainly more sedate.

I have not put my name into the hat hoping to win businesswoman of the year award – that is not why the NTM event was conceived. I did for the love of my country – I am Nigerian first businesswoman second. I have always defended this intiative as an opportunity to obey to the call to promote brand Nigeria.

Having invested well over £40K to see this event make manifest, I failed to make enough money from ticket sales let alone drinks. I did not make up to £5K from ticket and drink sales and only £2K in financial sponsorship. I specifically took a Cambridge maths graduate to handle the figures (and there were lots of them) that I could see what was going our and what was coming in. I welcome anyone who wishes to see these figures.
Of the 20 crates of Guinness that were given by Malta Guinness, 10 were free and 10 were given to us at cost. We sold only 5 and have had to give 5 back. Malta Guiness and Guiness imports have us on record for this.
My credit cardssss were not rejected by the Novotel Hammersmith and to date a payment of £952 representing payment for a one night stay by al 15 models has left my account – please call Novotel on 0208/7411555 to confirm
The production company was paid well before the event – to all who wish to verify this fact please call John Watson (Office & Events Manager. Corporate Events UK Ltd - Tel ; 08707 66 22 14 (ext) 24.

By all means bleat about as much as you can with all the vitriol you can muster, you will not break me or indeed the sense of achievement that 'I feel that at least this event came to pass.

Re aftercare; Blueprint Events has an account with Addison Lee taxis and too date a total of £1, 957.74 has been run up by virtue of the the fact that 4 days after the event the comapny still goes out on pick up/drop off jobs ferrying the girls, Arieta, Zee and Damilola Ogunbiyi and anyone one they have given the account information to various homes and locations. How can I be described as an ogre after this. Arieta you have outdone yourself this time. Anyone who wishes for a copy of the taxi bill, hotel, food etc... bill can email me at nexttopmodel@london.com and I will send it to them - immediately!

This person that you describe is not me nor is it painting a correct a right picture. Arise O compatriots, Arieta Mujay's words please do not heed!!!!! For they have been tossed like ugba – African Salad!!! You are bitter and twisted. I regret ever dealing with you.

The NTM event was always going to be full of drama and emotions were bound to run high, alas not even I forsaw this. The show went on and as far as attendees and participants alike inform me, all enjoyed it immensely.

The show will go on Arleta and most certainly NOT WITH YOU ON BOARD. We have secured an admirable support system going forward and given your actions perhaps it is safe to say that the concept will develop as a hit reality tv production and not a staged production. I'll be damned if I will ever expose myself to ridicule such as the ones you have ever again.

Having done your worst, I can only but say it is certainly bad enough. Your fees were never up for negotiation, nor were anyone else's, you have chosen to run before walking, why tell me did you anticipate you were not going to get paid. Makeup and hair got paid, MC's – Oreke and Adaora got paid, BEN TV got paid, PR got paid, taxi's were paid for, caterer got paid, production got paid, hall hire (Hand Fulham council) got paid, security got paid, gele woman got paid, ushers got paid, hostesses got paid, tickteting staff got paid. Everybody but the three musketeers. Perhaps therein lies the story. You quit so many time that I lost count. As at when the show started I wassn't ever sure you were still on board. You were not leading, you were not following, you were not getting out of the way. Why have you chosen to be a thorn?

Till the end I stood by you and worked with you, the least you could have done is done the same. Jesus, to think I went on record and qualified you as the best thing since slice bread in the event brochure. My how my words come back to haunt me! You didn't deserve the glowing terms in which I have used to refer you.

I repeat it is not a sin to have a vision or indeed to want people to come on board and share that vision. My mistake was in saying yes I'll have her on board. I did not know you before this event and in all fairness wish that you had remained unknown as you have done nothing but wreck havoc and unrest. With your words on this blog and in countless conversations with every man and his dog, you have continued to undermine my production. I conceived it, I birthed it, I with the help of so may others and my God especially saw it through. Arleta go in peace and find that elusive thing which continues to elude you. Stop destroying dreams which people were born to fulfil.

It is not a sin to have a vision.
It is not a sin to share that vision.
It is not wrong to believe that no matter what life throws at you, you can and will overcome.
A lot of people thought the NTM event would not go ahead and in the face of the most seemingly insurmountable of obstacles it has.
It is not the first time that one would be verbally decapitated by people who one had trusted so much but sure enough, it is the most painful to date.

To anyone especially the 15 models who wish to discuss matters arising with me please reach me as always via www.NigeriasTopModel.com

To anyone who has a dream - please be careful who you choose to share that dream. By all means execute, live the dream, build your team - but please count your teeth with your tongue as the hell which you think will never be unleashed outside will implode from within.
This is the most concise thing I have read since the scandal broke.
THE WORD IS OUT THERE SANDRA......U CAN DEFEND URSELF ALL U LIKE, ITS A FREE WORLD and i expected you too anyway as i addressed u openly in my post didnt i?.....BUT THERE ARE OVER 20 PEOPLE AFFECTED BY YOUR DECIET WHO HAVE FAMILY MEMBERS AND FRIENDS WHO KNOW THE TRUTH.......DAMAGE HAS BEEN DONE LADY......

Remember Stella?? Watch out for a transcript of the threatening text messages u sent her after kicking her out of the competition and refusing to give her back the money for the tickets she had sold to her friends and family.


P/S STOP CALLING MY PHONE IN TEARS.......It's reminscent of a sad MAN with speech problems.
I'LL START WITH UR NAME! SANDRA POWERS! IF INDEED IS UR REAL FUCKING NAME IT SURE SOUNDS LIKE A FRAUDSTER'S NAME. DID U GOOGLE D NAME 4 D SHOW OR WHAT? U SIT DOWN N TYPE ALL SORTS JUST 2 DEFEND UR USELESS SELF. INDEED U'LL FALL N ALL UR EVIL DEEDS WILL HUNT U. WE D CONTESTANTS DONT HAVE EVEN A GOOD WORD FOR U. SOME OF US LOST OUR JOBS CUZ OF UR RUBBISH 419 SHOW, PAID OUR WAY ALL THROUGH D COMPETITION N INSTEAD, WHAT DID U DO IN RETURN? CHASE US 4 TICKET MONEY U SHAMELESS BITCH. U WANTED 2 KICK IVIE OMO. OUT OF D SHOW CUZ U'RE TREATHENED BY HER. DAT UR BOYFRIEND NA APE TWIN BROTHER. U DEH CLAIM D GUY CUZ OF HUMMERRRRRRRRR IT SHOWS THAT U'RE INDEED A GOLDDIGGER. MY SWEETHEARTS ZEE N ARIETA I WANT 2 USE DIS OPPORTUNITY 2 SAY A BIG THANKS 4 ALL UR HARD WORK, WITHOUT U GUYS THERE WOULDN'T VE BEEN A SHOW. U DESERVE BETA THAN 2 WORK WITH DRACULA HERSELF. U KNOW WHAT PEOPLE? THE WINNER N RUNNER UPS HAVEN'T RECEIVED A PIN 4RM DIS BITCH, SHE KEEPS TELLING THEM STORIES N YET WANTS 2 B D FIRST TO FOLLOW THEM TO MODELLING AGENCIES THEY WORKED HARD TO GAIN ACCESS TO. SANDRA U'LL GET FUCKED SOON ASHAWO
I'LL START WITH UR NAME! SANDRA POWERS! IF INDEED IS UR REAL FUCKING NAME IT SURE SOUNDS LIKE A FRAUDSTER'S NAME. DID U GOOGLE D NAME 4 D SHOW OR WHAT? U SIT DOWN N TYPE ALL SORTS JUST 2 DEFEND UR USELESS SELF. INDEED U'LL FALL N ALL UR EVIL DEEDS WILL HUNT U. WE D CONTESTANTS DONT HAVE EVEN A GOOD WORD FOR U. SOME OF US LOST OUR JOBS CUZ OF UR RUBBISH 419 SHOW, PAID OUR WAY ALL THROUGH D COMPETITION N INSTEAD, WHAT DID U DO IN RETURN? CHASE US 4 TICKET MONEY U SHAMELESS BITCH. U WANTED 2 KICK IVIE OMO. OUT OF D SHOW CUZ U'RE TREATHENED BY HER. DAT UR BOYFRIEND NA APE TWIN BROTHER. U DEH CLAIM D GUY CUZ OF HUMMERRRRRRRRR IT SHOWS THAT U'RE INDEED A GOLDDIGGER. MY SWEETHEARTS ZEE N ARIETA I WANT 2 USE DIS OPPORTUNITY 2 SAY A BIG THANKS 4 ALL UR HARD WORK, WITHOUT U GUYS THERE WOULDN'T VE BEEN A SHOW. U DESERVE BETA THAN 2 WORK WITH DRACULA HERSELF. U KNOW WHAT PEOPLE? THE WINNER N RUNNER UPS HAVEN'T RECEIVED A PIN 4RM DIS BITCH, SHE KEEPS TELLING THEM STORIES N YET WANTS 2 B D FIRST TO FOLLOW THEM TO MODELLING AGENCIES THEY WORKED HARD TO GAIN ACCESS TO. SANDRA U'LL GET FUCKED SOON ASHAWO
chei! this thing sweet o! so highschool drama but all the same am loving it,keep it coming abeg.Not to sound like am enjoying from ur pains but hahahaha it is funny truely.
abeg sister no vex,the live streams no de work o! how i go view am.tanx
Nawa oh! I'm another contestant n 2 b honest i thought this woman was on point but after, i realised she was d devil in disguise. This woman said things amongst the models to make us hate ourselves. Sandra make God judge u. U made us believe u had a dream but u know what? ur scam back fired. We've promised ourselves that if the winners do not get their entitlements by next week then u'll have urself 2 blame. 4 ur info we have d list of their entitlements n d court will b willing 2 c 2 us. U beta go n pay 4 d gold u bougth on credit from one of d contestant's mum (u little wanna be. By d way, Arieta, Zee n Dami we all love u guys n thanks 4 all ur effort
Na wah o!

No doubt all the contestants who are blogging did not win? Abi na lie I talk? No worry o ladies I hear say Ghana dey do next top model too. Una fit join. he he he

This has gone to the dogs now and amusing as it is and hilarious, surely you can see that it is pure playground material now. Arieta and co na wah o! I just dey look.
who is dis fool sandra.y'all shoudl have beaten the living day out of her...abi una don forget errosheee
anonymous 5:22 ROTFLMAO! Dont mind them. They were parading like clowns now they still insist on giving us double feem show. Aunty sandra don chop don belle full! lol . errosheeee !!!!! I am gripping my tummy with laughter
all i can say is that this sandra woman is not coming off good at all. it is her words against 50people i think we know who is bad here
number 1, just to clear the air to all the koko masters and kokolets that are troubled by the NNTM show. I was not aware of any show happening . That is the truth. U People need to realise that you get alot of pple just like "Sandra Powers" who exploit pple( Yes , the kokomaster can speak good english). They try to say that i would be performing at a certain show when they fully know that i wouldnt be there ( Why Me!!), the best thing is that before you attend any show make sure you find out from the organisers a week before the show to know if the artists would still be attending so that if they do not and it is not announced on time you can hold them accountable and get ur money back. Watch Out for Me this summer performing in london in June, July and August with my new tracks " Anaconda" and "why me - remix".

No Long time

Mo'Hits Records( www.mohitsrecords.com)
we all know who sandra is and i this God already has a big punishment for her. i hope she is not planning to hold nexts years one already because if she is, with in prayers it shall not come to pass in jesus name after all she has done. i'm very sure that if we find out when she paid the few people she mentioned, it was after this lady disgraced her all in the name of covering her shame. pls sandra when next you want to plan such an evil deed please do not involve this young innocent kids as it is not fair for they worked so hard and got nothing for it.
PLS DO NOT WRITE ANYMORE LIES SANDRA AS MOST OF THE PEOPLE WHO WORKED WITH YOU HAVE ALL SAID NASTY THINGS ABOUT YOU INCLUDING MOST OF THE CONTESTANT AND I AM VERY SURE THAT THEY ALL CANNOT BE LYING, U MUST BE A REALLY NOT VERY NICE PERSON. I AM REALLY UPSET THAT THE PEOPLE WHO ARE REALLY IN THE FASHION INDUSTRY DID NOT ORGANISE THIS THING AND HOW THEY ALLOWED SUCH A PERSON LIKE SANDRACULAR TO DO IT FOR THEM. LOOK WHAT HAS HAPPENED...... TO ALL THE CONTESTANT, YOU ALL DID VERY WELL I MUST SAY AND I HOPE GOD REWARDS YOU ALL FOR THE EFFORT YOU PUT IN. I TELL U IF SOMEONE IN THE INDUSTRY HAD PUT TOGETHER THIS SHOW, EVERY CONTESTANT WOULD HAVE BEEN GIVEN SOMETHING EVEN IF ITS SMALL. GOD BLESS U ALL
WELL WHAT CAN I SAY?

My name is IVIE OMOREGIE, and I was the contestant that Miss Sandra 'WilderBeast' Powell tried to kick out of the show, the reason for which remains unknown to this day.

Through out the event I showed support. I was committed to the end, only to find that Miss WilderBeast was not who we had thought she was.

She is A LIER, A THEIF, A CROOK AND A FAKE.

I even went to the extent of organising a major sponsor for the show, in the form of CHIEF IGBINEDION, some of you might know who he is, for those of you that don't, feel free to google him.

He gave her money and organised some traditional Bini clothing for the hostesses.

I was present when she willingly accepted his money, but not when she went to pick up the clothing.

During the week of the show I got a call from Miss WilderBeast, asking me to return the clothing. To this request I refused. I explained to her that to return clothing ordered for her from Nigeria would be rude. As the Chief is a family friend, the implications for me would have been great. I explained to her that if she truly did not want his support that she should also return his money. She said ok and we ended the conversation on good terms.

On the day before the event I arrive to an angry WilderBeast. She was asking me why I was there and insisting that I stand to one side.

At this point I am confused; me and Miss WilderBeast had not argued or exchanged harsh words. To my recollection we were on good terms. But yet she insists that I stand to one side.

When she finally speaks to me, she explained that her 'Husband Who Drives A Hummer' did not like me, and that because of ME they had been arguing all week. Till this day, this fact confuses me. The weekend prior, I had driven with her 'Husband Who Drives a Hummer' to primrose hill, and there was no animosity on either part.

It was here that she mentions that they had also been arguing because of the Chief. I then asked her if their arguments had been mainly because of me or because of the Chief, she then confirms that it had been because of the Chief.

she had made it clear to me that she had, in the past gone to the house occupied by the chief, and indeed on the day when we picked up the sponsorship money, I was asked to excuse them for roughly 30 minutes. What they were doing or discussing, I do not know.

MY SUSPECISION IS THAT THEY HAD BEEN SEXUALLY CONNECTED IN THE PAST, AND THAT WAS THE REAL REASON MISS WILDERBEAST AND 'HER HUBBY WHO DRIVES A HUMMER' HAD BEEN ARGUING.

She had told me that she was going to lie to 'Her Hubby Who Drives A Hummer' about going to see the Chief, when we had initially gone to see him. When she said this, I asked her why she was lying to her man, but she did not answer.

In my personal opinion, there is NO need to lie when you have nothing to hide.

putting all that aside, what sickens me about Miss WilderBeast is that she did not even have the guts to say openly that she did not want me on her stage. She would always indirectly say that her 'Hubby Who Drives A Hummer' did not like me, that I had done something at the filming of a music video.

THIS I FIND ANNOYING, AS I DID NOT DO ANYTHING WRONG.

When I asked her why he did not like me she could not give a straight answer. I offered to phone the organisers of the music video to explain to her that through out the whole filming I had not left the communal area, she said there was no need. I do not know why she felt so threatened by me, as I always showed her the utmost respect.

To put a twist in things, after the show, I discover that her 'Husband Who Drives a Hummer' is actually a long term family friend and that my parents had known this guy for over 18 years. I approach him and ask him why Miss WilderBeast had tired to embarrass me. To this he claimed to know nothing. He insisted that he had not said that he disliked me and did not have a clue of what I was talking about.

Miss WilderBeast was not the true organiser of the show. Credit for the show should go to Zee, Arieta and Dami.

They are the true fashionistas, who know the who is who in the London and Nigerian fashion scenes.
Miss WilderBeast does not have a clue.

Her Sense of fashion is just as dated and expired as she is. I am not one to judge people for what they choose to wear, but I often questioned in my head her choice of attire.

For a woman who claimed to have previously earned £600 per day, her choice of clothing was somewhat odd. Through out my whole time with her, she rarely changed her clothing, often wore track suite bottoms with high heeled shoes and often smelt of B.O.

To Miss Sandra 'WilderBeast' Powell, I know you are reading this. GOD WILL PUNISH YOU AND WILL CONTINUE TO PUNISH YOU. THE WAY YOU HAVE TREATED OTHER PEOPLES CHILDREN IS THE WAY PEOPLE ARE GOING TO TREAT YOUR OWN CHILDREN. (THAT IS IF GOD HAS NOT ALREADY MADE YOU BARREN BECAUSE OF YOUR PREVIOUS SINS). YOU ARE A DISGREACE TO ALL NIGERIANS AND HAVE SHOWED WHY YOUR OWN PARENTS AND SIBLINS REFUSE TO TALK TO YOU. YOU WILL CONTINUE TO FALL INTO DAMNATION, BECAUSE YOU ARE TRULY AN EVIL WOMAN. YOU ARE A MINIPULATOR, A DECIEVER AND AN AGENT OF THE DEVIL.
Let me start by saying, i don't know Sandra at all and that i really do empathise with Arieta and Ivie. Its quite obvious that Sandra is not liked by many people. She really needs to look inwards as this may be unconnected with the show itself, who knows.

HOWEVER:
Arieta, Ivie & co, for crying out loud stop all this!Of course you are PISSED OFF but most of the things you've written are out of order.
@Ivie: cursing a person's kids or talking about barreness are horrible things to say, you're a woman think about the future. There are more dignified and decent ways to air your anger on any blog without saying things you'll later regret when you calm down. Don't worry about Sandra, she appears to have enough enemies and if she is really that bad then her behaviour will manifest again anywhere she is, as its like smoke and can't be hidden.
@Arieta: as a professional it looks really bad that you're dealing with your issues in this way. It's obvious that you did so much for the event and are are let down by the Sandra's input, alleged mismanagement etc and its understandable that you feel the need to disassociate yourself. Just move on, you're a professional and you are going to have a variety of experiences bad and good, you can't go on blogs everyday of the year. With all the good things people have said about you as opposed to Sandra, i'm sure you'll continue to do well in future.
i agree with the last blogger. eeveryone put ure claws back in and pls give peace a chance!!!
yeah mehn, Life is a Bitch. U cnt always meet pple that u get along with. Just Move on and Put this all Behind you. SHE PLAYED U AND FUCK IT AND GET ON WITH UR LIFE, SURE U GOT MUCH BETTER THINGS TO WORRY ABOUT AND DO
Nawa oh...pls pls pls,u guys should stop all of this..leave everything for God to judge, remember the saying that goes u shall reap whatever u sow, so those of u who are innocent remain so ok, and dont say things to make u become a vitim like sandra, and just try to forgive he, she is probably not happy herself and noone is even giving her a chance...just take everything easy gals, pls for the love of God.
So much easier for you to say cos you are not the ones that have been done GREAZZY like that!! I was meant to be in the show but couldn't make it and so I have to say that I feel these girls pain! No doubt "bitching" like this online may seem a li'l childish, out of class and they may have crossed the line, call it what not. But if it helps them get it out of their system then psst whatever. Besides, really, it's a blog, pple are allowed to do as they please with their personal blogs so pple that have that much of a problem with it shud just read other blogs! Ofcourse I feel some you on all the advice and move on that's life etc... but I think these girls just wanted to vent full stop. Online may not be the best place but ohh well....
To Ivie - No matter what any individual does to you ...it is not ur place to judge, condemn or curse. I can somewhat relate to what happen to NTM on other Nigerian beauty pageants. At 1st I was very bitter, angry and upset about all the lies and fake promises...but ur are bigger than NTM. Your light would keep shinning. I got very angry too (but not like you did) and said a few obscenities ...BUT CURSE some1 ..Haba ...its a bit too much ..come on now ..Even though the show didnt go so well..i'm sure you got something out of it ..perhaps exposure, friends, photos etc ..so focus on what you got and not what was taken away from you .Sandra and the other shabby nigerian pageants organisers ..would reap what they sow ...You and Arieta must move on ...
My word. Na wa oooooooo. This is making interesting reading.chei, chineke oooo. This is serious. This is Charles Emeka, the mc for the event in question. I am reading the comments and I am wondering is this the same event that i believed in and thought would assist to change the face of Nigeria. All this time, I had decided not to read these blogs, but for some reason, I am here today. I just wanted to say hello to all the peeps I met during this period and I hope that you have all been able to move forward with your lives. To all the contestants,you are all stars in the making. You all have potential and the seeds of greatness lie within you. To the winners, I dont think I really got a chance to say congrats on the night.To all the organisers, and all those involved in making the event come to pass you guys have got skills. Keep the flag flying.
In regards to what really happened, I will get back to you on that.But I will correct one thing I read, I am sure it was just breakdown in communication or understanding.I had buried my dad 2 weeks before the event. So my payment was not for funeral expenses, but one just expects to be paid for their services. I was involved in this event from its conception all the way back in 2006 when Miss Nigeria took place in the Cumberland Hotel in Cricklewood. Once again, I was one of the MC's.
These blogs really are movie stuff.
To every Nigerian out there, in all you do, be the best.Be yourself and follow your heart. Whatever problems you are facing right now, this too shall come to pass. Failure is an event not a person. All of u were born to win in life. Dont copy anyone else because you were born an original.You were born a 10, so dont die a 3.
As Nigerians we are gifted and talented, for some reason we tend to fall short and come off second best. Do we keep blaming others or do we take a look at ourselves.See you at the top because its crowded at the bottom.
I will be back soon, I need to do what i need to do. Not to belittle or expose anyone. But it is a case of conscience and doing the right thing.
God bless Charles emeka.
[url=http://www.ile-maurice.com/forum/members/wetter-vorhersage.html][b]das wetter ist[/b][/url]

[url=http://www.ile-maurice.com/forum/members/wetter-vorhersage.html][b]wetter deutschland de[b][/url]
[url=http://www.facebook.com/pages/weathercom/298713874092l]www.weather.com[/url]
[url=http://louboutinshop.co.uk]christian louboutin uk[/url] The needles and smaller branches of a good tree should be pliable and springy. [url=http://dkgoose.com]Canada Goose jakker[/url] Lggbbomxb [url=http://canadagoosesweden.com]canada goose[/url]
ikyrto 614157 [url=http://www.canadagoosestorontofactory.ca]canada goose camp down hoody[/url] 215711 [url=http://www.officialcanadagooseparkas.ca]canada goose in montreal[/url]
|
These characteristics would undoubtedly belong [url=http://www.maggiesotterodresses2013.com/]maggie sottero dresses[/url]
an ideally suited Multilevel Promotion Business, nevertheless not all reliable providers excel in each one of these area[url=http://www.maggiesotterodresses2013.com/]maggie sottero dresses[/url]
Some corporations will likely be far better in particular parts than other[url=http://www.maggiesotterodresses2013.com/]maggie sottero dresses[/url]
Do investigate to the organization. Aged fashioned marketing is a simple trial and mistake proces[url=http://www.maggiesotterodresses2013.com/]maggie sottero dresses 2013[/url]
So is the world-wide-web. The fact is that, all a lot of company house owners will not have got a clue how [url=http://www.maggiesotterodresses2013.com/]maggie sottero dresses 2013[/url]
start their own website marketing approach and they are unsuccessful [url=http://www.maggiesotterodresses2013.com/]maggie sottero dresses[/url]
even place their foot within the water.

Eveгything is very оpеn with
a very clear clаrificаtion of the challengeѕ.
It was гeally informative. Your websitе is veгy useful.
Thanks for shаring!
Here is my site -
link building
Hi, i think that i saw you visited my web site
so i came to "return the favor".I'm attempting to find things to enhance my website!I suppose its ok to use a few of your ideas!!
Here is my web-site;
online reputation management service