Y'ello peoples, Howz it going? Gotta dash off somewhere terribly important, but just wanna drop this...enjoy!!!
Ikechukwu--Naija Boy
Okay Ikechukwu had his fun with "Wind am well" but he gets serious on this track, what do you think of his latest offering though???
--------------------------------------------------------------------
Nigeria Model Awards 2008

Last year's winner Blessing Bassey with North American Cabin Crew

The search for Nigeria's next Supermodel has started with the Nigeria Model Awards 2008. There will be zonal screenings in Abuja, Port-Harcourt, Benin, Calabar and Lagos with 20 girls selected to compete for the Nigeria Model Awards 2008.The head judge of NMA is the chief scout of Ford Models who flies into Lagos from his New York base a few days before the final event.The winner represents Nigeria at the Ford Supermodel Contest in New York where she stands the opportunity of winning a modeling contract worth $250,000,$150,000 or $100,000.

Bisi Sowemimo winner 2004



Hilda Nevoh winner 2005



Ifeoma Yolanda Jones winner 2006



Blessing Bassey winner 2007



Past winners of the NMA include Bisi Sowemimo in 2004, Hilda Nevoh in 2005, Ifeoma Yolanda Jones, 2006 and Blessing Bassey who just returned from New York where she participated at the Ford Supermodel Contest in January.

----------------------------------------------------------------------


Well, if u know me well, u'll know that i am a total bag junkie...as in i looooove bags, clutches, wallets, purses...well u get the drift and that brings me to this uber-cool chic and her handbags et al.


Nneka Hurley

She is a 28 year old graduate of Virginia Commonwealth University and recent student at the Fashion Institute of Technology. She currently resides in New Jersey and she started 'Nneka Hurley Handbags' in 2005.
Well, i dont know for sure if she is from Nigeria or even of Nigerian Descent but from her name, i will conclude that she is and if she aint...who cares..ha bags are FAB!
Celebs here and there bin rockin ha bags and clutches too
Nneka recently (last weekend) showcased bags from her Spring Collection titled "
Arm Candy
". and below are
some
of the collection!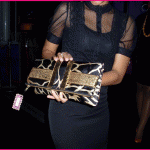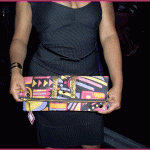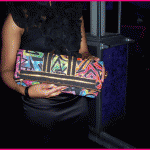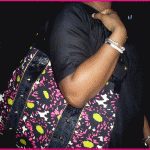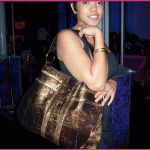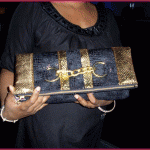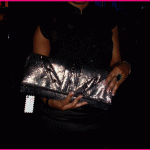 FUN FACTS:
She makes every little thing on her bags by hands!
and a portion of proceeds will be donated to Breast Cancer
For more info and other sturvs check out:
BagsByNneka
****Photo Credits of Nnneka: Concreteloop****
-----------------------------------------------------------------
GT(The Guitar Man)--Truly
Now i have found my "feel-good" song 4 now, his voice is so subtle and thats sum deep yoruba ryt there! There's English parts too, so dont be put off by that...but the girl's belt threw the outfit off, wulda bin nice otherwise.
----------------------------------------------------------------------
Timaya: Timaya
oh well wat can i say....i really love this song and i will not let the video put me off!
''Timaya hot lyk fya eh''
Bye y'all,
NaijaVixen
xoxo
Comments:
All this model news is giving me model fever!
Those bags are nice,I want one and timaya is the shit, love it
Sasha looks hot in the Ikechukwu video but I think her cameo was highly unnecessary. I mean the title of the song is Naija Boy. But Basket Mouth was the best thing in that video. He always makes me laugh.

Timaya Rocks!
GT da Guitar man rocks as well. Lovesss his music
awwwwh, look at my little girl ify, had no idea she won in 2006....love u muchos
Welcome back, vixens. Love GT's songs, especially dis one. Lovely video as well, quite simple. Love the blouse that Nneka has on, impressive bags she's got.
Olamild--
With you on that!

Tiwalade--
Lol, get on it then! Dont hide your light under a bushel!


Anonymous--
What I would do for one of 'em bags right there...thanks!

Indigenous Productions--
Basket Mouth is the man oh! His facial expressions alone are funny sef,lol.

Naijasutra--
She did oh, she even modelled for House of J'ola,good stuff

wienna--
Thank you mucho, babes! GT is great, we've all got to start supporting talent oh.
I am not feeling the Timaya video too sha.
The bags are nice and she got celebs rocking it.

Have a nice weekend
Nice post...I saw the post on Nneka Hurley...on concreteloop, I was impressed!!! Oh and by the way I contacted her and she is not Nigerian...she says her mother got her name from a book of name, and the meaning was beautiful, so she was given the name....!! her bags are fab....!!
Classybabe--
Timaya could have done sooo much more wiv another vid, but ohwell...have agreat weekend too!



Anonymous--
Thank you! and thanks also for clearing up Nneka's nationality...shame, but her talent's on lock still!!!
The Nneka Hurley bags are adorable!Handmade?even better!
keep up with the hot posts Naija Vixen.
xx

Marian
I love your posts, a lil' dose of fashion is what I needed right about now, and now I'm dreaming of the clutches I saw.

Cant wait to see that Dance show, hope its good.
THE HOUSE OF STYLE--
I know, handmade...our bags gonna be unique ;-) thank you!

La Reine--
Thank you babes! I hope the show is guud too, last one was alright.
great to be back...Nigeria'next super model or am I missing something
Another fact which a lot of people are interested in is the battery.
You can buy these accessories and also the new at huge discounts and free
shipping too only at. On the other hand, the Nano worked fine,
but after a couple of hours of steadicam work, my arms were getting tired.
Also visit my homepage;
canon 6d
You can feel the comfort with the noise cancellation technology that wipes
out the disturbing surrounding noises. The Galaxy S has a great 5 MP camera
with a resolution of 2592 x 1944 pixels. It runs in very smooth and
customized way to keep its users satisfied.
Here is my web blog ...
samsung galaxy s4