Hey wots up guys, hope u guys r good? anyways 2 d post......
BLOGVILLE IDOL:
So yes it started yday but today 4 me cos m in the Uk n i got to listen to it this morning!, and i have 2 give kudos to Pink satin and Opeke 4 d whole set up and organising and stuvvs...nd Ugo...i rily do luv those Logos...dey r so nice! Ok,movin on to the competition itself... Dang! Blogiville definately has talentss written all ova it...luvin it already....but yall shld go listen and vote...n leave comments and constructive critisisms...since m also on the judgin panel u can hear my voice on it lata on 'arrrrrrgh' wen i decided 2 judge i thot we were goin 2 write it down...but damn snapvine...lol! anyways its all bout the contestants so go check it out and remember 2 vote! d results will be announced by our own 'Ryan Secreast"...Cheetara on Thursday! luvin it already...sorry m just so hyped..lol!* u dont have to be a blogger 2 vote..so
click here......
TOSA COLLECTION:
The Tosa collection is a movement aimed at enlightening everybody about the richness of the African culture. It is a harmonic blend of urban chic and African couture. The brains behind this collection is
Osato Ikponmwonba
. We all have bit of mother Africa in us, the Tosa Collection (TC) is his gift of representing and expressing that aspect of a dynamic heritage. You do not have to be African to wear this it. His dream is to put a positive spot light on Africa. TC is open to both men and women and they promise to give you hit after hit of top notch designs each and every season. TC is fresh, new, and young and would be appreciated by lovers of art, because that what this is, African art.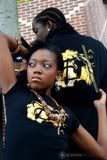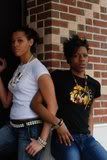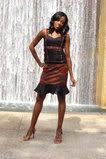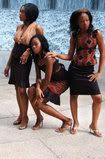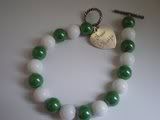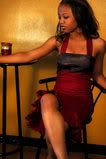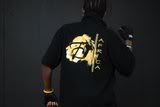 **Click on Pictures 2 enlarge**

The
website
will launch in the next 3weeks and the whole movement shld be in force by ending of June....also thier first appearance will be at the Nigerian Reunion in Houston..so make sure yall check it out! ...paran pa pa pa m luvin it!(yea i know..pretty lame)lol
RANDOM PIECES:
The Japanese government has donated the sum of N1.16 billion to the United Nations Children's Fund (UNICEF) for polio eradication, routine immunization, prevention of malaria and other child survival programmes in Nigeria.
Wanna hear D'banj sing about his luv 4 'That Booty?...lol...click
here
2ND THISDAY ANNUAL FESTIVAL:
Following the success and turn out of the 1st Thisday Festival,They are gearing up 4 the 2nd one which is set to take place on July 14th & 15th 2007.The festival is going to last two days, just lyk d last one.There will also be a fashion show with the likes of Alek Wek and Naomi Campbell.Artistes already confirmed for the show include:
John Legend,Shakira,Rihanna,Ne-yo,Kelly Rowland,Omarion and UB-40
...Tickets for the two-day event will go on sale at all branches of
GTBank on June 14
. The classic ticket will cost
N10,000 per day
, while the
VIP ticket will go for N25,000 per day
. Tickets for the exclusive but limited state box will go for
N50,000 per day
. I shall kip u posted on anything I hear/see regarding this....
CANADA'S NEXT TOP MODEL:
Mo is the only black contestant on the currently runnin Cycle II. Shes Nigerian...ha full name is 'Morayo'. U can follow ha journey on the show on ha weekly
blog
n u can also check out ha portfolio..
Luv dese picturessss...

Thats all folks...much much much much love!!!!!!!!!!!!
Comments:
I watched the two episodes of Canadas Next Top Model, i luv it i must say i did have a feeling Mo was Nigerian. I hope she goes far.

Loving the Tosa collection Young and fresh NICE!..

Luvin it as usual Vixen!

Vote Talent,Vote Abujababe for your Blogville Idol!!..

You see what i have turned into a One woman Campaign!!.. Na wow Oh!..

Ciao..xx
Lurvs da post. This Day will never cease to amaze me. The kinda artistes they bring into Naija-A-List. Big ups to them jare! Painfully, though, i won't be in 9ja at da time so can't watch nada.

Hope da canadian black gal lasts..

Peace out!
9ja we dey represent o..GO Mo

i LOVE DBANJ but I didnt really like that song he sounded like he was trying too hard...PINK-SATIN
Hello Naija Vixen
You tried to leave me a voice comment, but I didn't hear anything
THX DEAR, HOW ARE U? I WISH MO THE BEST SHE IS HOT. I WISH I WAS IN NIGERIA TO ATTEND THE THIS DAY FESTIVAL. HMMMM NEXT TIME
I just heard your voice on the idol thing you are the vixen on it right? i recognize yur voice omg or am i confused? i think i actually do and if it is you , you dated my brother like when you were in college???? do you know me now?
i wish i would be in niaja when thetime for the show comes up. Can't believe all those people are coming over there. (ja is the new hotspot. or don't you guys think so???
HEY JUDGES TANX FOR YOUR COMMENTS(VOICE AND WRITTEN)..YOU DID A WONDERFUL JOB...THANK YOU..WE LOVE YOU ..YOU DEFINENTLY SPICED UP THE SHOW.....SEE YOU ON SATURDAY...(sorry 4 d wahala snapvine gave u guys at 1st)
I've seen d first episode of Canada's top model but got bored later. I've seen d girl as well and thought she looked great. Thank God they show d omnibus here in UK,will make sure i watch it.
As for Thisday event, i reserve ma comment. Don't want to be a spoil-sport.
All the Mo's I know are FLY! LMAO! ha ha ha.. dont mind me one minute craziness. babe how are you now. abi we not speak because you be judge??

they have come with that THIS DAY thing again...very soon there will be Rihanna Street and Neyo Close. Hiss.
Naija Vixen- you always have the most coolest topics here. I haven't seen the Canadian top models.
And i shall be at the ThisDay music festival oh. John Legend - here i come...
dare i think what i am thinking? do YouKnow?
yes you do know! you rawk!!!! lawl lawl lawl (yes thats the new way to say it now)
I AM completely embarrased to call myself Canadian especially considerin the fact that yall in the uk watch the top model show and i still haven't... i will catch up soon tho... love the clothes in this pos.. wasnt able to see em closely even when i clicked on them individually. but they look fab great post as always vixen luvs it
lol....its now PRIVATE ish babes.. you r forgetting that when you hear a new song on one station, and you hear it on another station, the likelihood of you remembering where you heard it from is quite high?

LAWL LAWL LAWL

ok tell me you dont think am crazy and u understood.
Hey Judge,The contestants have sang so please go to the page and listen to them on d voice player IMMEDIATELY....pls bear in mind that the contestant on this session are singing nigerian songs of their choice(except diary of a g who isnt nigerian)..Tanx for your time and your efforts...PINKPEKE PRODUCTION
Mo is really pretty,hope she does well
Ahn ahnnnnnn...I love the Tosa Collection...beautiful...

And as for Morayo, wow...what a beauty...I berra catch up on ANTM...I'm missing out on all the fun...U GO MORAYO! fyne girl!
love this love this NV! I'M baaaack
lovin the Collection!
wish i could be there for this day though. :(
Hey Judge,The contestants have sang so please go to the page and listen to them on d voice player IMMEDIATELY....pls bear in mind that the contestant on this session are singing r n b songs of their choice..Tanx for your time and your efforts...PINKPEKE PRODUCTION
Wah Gwaan My girl wey u deh?? Update us now?? or are you writing your exams???.

If so good luck babes!..
But plz hurry up and come back i dey mis u too much ooh!..lol:)

Ciao..xxx
vixen- you've unearthed another- a Nigerian model in Canada.
The ThisDay awards?- Those prices are a bit steep. I guess it depends on the venue.
How've you been, dami?
Hey babes wtsp? thanks 4 checking up on me, I have just been too lazy too update!

Wish Mo all the very best, I love it when I see naija models doing their thing!

AS 4 thisday, I am gonna be in lagos! so, that means I can go!!! (I hope)

Nyways, babes lovely post as always

ciao!!
babe, are u ok???? just checking on u luv!

update now!! han han (he he he dont talk bout me oh, i said i was going on a break but i'm bout to update sef, so whats ur excuse?)
ur pictures did not enlarge o and i am sorry but i have no magnifying glasses
@AbujaBabe--
I hope so too,she does have the "model" look...;-) We have finished examz oh,thanks for your concern...it's partying thats keeping us away,we are back tho...Thanks!!!

@Ugo Daniels--
Thanks Ugo! Thisday are raising the bar...cant wait to see the vids!

@BlogVille Idols--
Lol...9ja pple are everywhere... D'Banj has got booty on his mind 24/7...lol!

@Sparkle--
Hey babes...i doubt it was me tho...hope you r good tho?

@SET--
Hey babes...thanks for stopping by...Dont worry,we'll get the vids up for you when the concert happens!

@Anonymous--
Errr....you are kidding ryt? Might be someone else...I dont know your brother oh...;-)

@Chidi--
We'll put the vids of the show up when it happens...wish we were there too! 9ja is the place to get your dough...;-)

@wienna--
Pics are a great thing...;-) I hope she lasts in the show...we'll update 2mow...thanks!!!

@~Mimi~--
LOL...i concur!!!Ohmydayz...you are wrong for dissing Neyo & RihRih's streets...lyk you wouldnt want to live there? ;-) And yes i get now,you are not mad at all....;-) We are back we wont play lyk that again!

@SimplyGorgeous--
Aww...thanx babes...;-) You can watch the show online for free @ tvlinks.co.uk

@Uzo--
Have fun at the concert babes...wish i could swap places with you...;-)

@Overwhelmed Naija Babe--
Lol...you are forgiven...support your country woman oh...pls explain her accent to me tho...;-) Oooppps,realised i made the pics appear small...sowwee!

@Classybabe said...
Yeah she is very pretty,thanks for stopping by!

@Jaycee--
You know...Tosa's pieces are so rawkable!Go get your top model fix oh...Mo is beautiful!

@Mona--
Thanks babes...glad you are back oh!!!

@Confused Naija Girl--
Thank God you are back from your holiday!!!We'll put the vids up when the show happens!

@Laspapi said...
'Papi,the prices are steep oh...but they will get away with it wont they...pple will do whatever to be there...our naija in Canada is pretty isnt she??

@Tiwalade--
Thanks Darl..for checking aswell..oya stop being lazy abeg!!! Have fun at the Thisday show,i envy you!

@Catwalq said...
Sowwee...set the pics to small by accident...!
hey judges contestants have sung their rock songs..pls leave ur voice comment/written comments ASAp..tanx ..we love u