Update :
so sorry i thot i put up their name!They are called "Ice4" and are being hailed as the "Nigerian Destiny's Child"...as you do!!!I'll put up their music real soon i promise!!!
BAZ BAMIGBOYE:
Baz Bamigboye is a British gossip columnist and arts reviewer,who mainly writes for the Daily Mail group of newspapers.His reviews are often quoted in well-regarded secondary reviews The Guardian,The Daily Telegraph and the BBC.He was given the "Showbusiness Reporter of the Year" award at the British Press Awards in 2003.Numerous TV appearances include Club Mix on Channel 4 and Jack and Baz on BSkyB and appearances on US TV.He is the son of Bamidele Bamigboye,the Oba of Iresi.In July 1985 he married Patricia Evans from Australia.
SOPHIE OKONEDO
Born in London to a Nigerian father and a British/Jewish mother,Sophie is fast becoming a force to be reckoned with in the film industry and although she might be relatively new to some of us,she could be called a seasoned actress since she's been acting for almost 20 years now.Her touching turn as a sympathetic prostitute in "Dirty Pretty Things" also starring Chiwetel,was what proved to be her breakout role in film.Her performance in the movie made Terry George cast her in "Hotel Rwanda" which garnered critical acclaim and numerous nominations and awards.She also had a role in "Aeon Flux" with Charlize Theron,even though it wasnt the best film ever,she still held her own.And her recent turn in "Tsunami: The Aftermath" was very moving leading to more awards for her.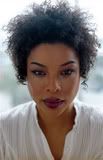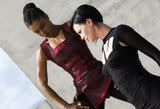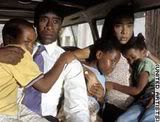 CHITEWEL EJIOFOR
Chiwetel Ejiofor is a 33 year old award-winning British film and stage actor who certainly doesnt need much introduction based on the simple fact that he actually is a great actor,he is able to switch from the baddie to the guy who clutches at your heart strings seamlessly.He has pretty much worked with all the heavy weights in the film industry on both sides of the pond--Steven Spielberg's 1997 film "Amistad",Spike Lee's "Inside Man" with Denzel,Joss Whedon's cult sci-fi "Serenity",Richard Curtis' "Love Actually",Julian Jarrold's "Kinky Boots" in which he plays a transvestite...no really!,Stephen Frears's "Dirty Pretty Things", Woody Allen's "Melinda & Melinda" and his fantastic turn in John Singleton's "Four Brothers"...PHEW!!!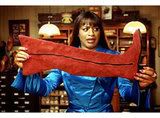 Ejiofor's performance in Tsunami:The Aftermath received a 2007 Golden Globe nomination for Best actor in a mini-series or film made for TV.He is currently performing on stage in The Seagull at the Royal Court Theatre from 18 January to 17 March 2007.
CARMEN EJOGO
A beautiful British actress of biracial heritage(Scottish mother and a Nigerian father),Carmen Ejogo began her career as a child appearing in a music video at age eight.She did loads of stage and tv work and had stints as a TV host and veejay before she got the role of Eddie Murphy's love interest in the predictable action comedy "Metro"(1997).2000 proved to be her year when she got the coveted title role in the four-hour CBS miniseries "Sally Hemmings: An American Scandal" and garnered good notices for her portrayal of the slave with whom Thomas Jefferson carried on a four decade romance and later that year,she appeared in Kenneth Branagh's "Love's Labour's Lost".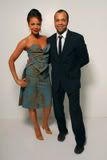 Carmen hasnt really appeared much on screen since she met her future husband Jeffrey Wright when they were cast opposite one another as Coretta Scott King and Martin Luther King Jr. in the 2001 HBO drama "Boycott" and they have one son together now,Elijah.
Adewale Akinnouye Agbaje
All credits for this go to Oghomwen
Most people will recognize him from such popular Television shows as OZ and Lost.He was born in Islington,London to Nigerian parents.He has a masters of Law and was educated at the University of London and Kings College.He began his career as a male fashion model and soon went on to acting in Television and Movies.He is a practicing Buddhist and speaks English,Italian and Yoruba.His filmmography is as follows:The Bourne Identity,The Mummy Returns,Congo,Delta of Venus,Ace Ventura: When Nature Calls and in Tv: Pensacola,New York Undercover,Deadly Voyage,Linc's,OZ.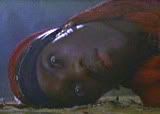 He is currently working on two movies--one is an animated feature "Horton Hears a Who" and the other is a horror movie "Survive".
(Oghomwen Ehigie)
MEGALYN ECHIKUNWOKE
24 year old Megalyn Ann Echikunwoke is an American actress(Dad was Nigerian and Mum is a Caucasian American) known for playing Nicole Palmer in the first season of 24 and the adult Isabelle Tyler in The 4400.She has had guest roles in shows like The Steve Harvey Show,Boston Public,ER,What I Like About You,Buffy the Vampire Slayer, That 70's Show,Veronica Mars and most recently,Supernatural.She was discovered aged 14 while performing in an arts academy summer camp play and thus began her long distance relationship with Hollywood.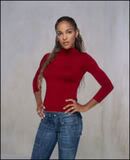 Echikunwoke means "leader of men" and for some reason i'm glad she didnt adopt another name and kept her Nigerian name.
Naija's Next Top Girl Band:
ICE4!
Go easy on them please,they can dance and sing apparently;-)
Labels: adewale agbaje, Baz bamigboye, carmen ejogo, chitewel ejiofor, Ice IV, megalyn echikunwoke, profile, sophie okonedo
Comments:
Their lovely pink Jacket..me likey well well!
Nice job well done again!
nice job. but where is their music, dont they have a website
Nice Post. Sophie, Chinwetel as well as Adewale are quite good at what they do.
Dont the budding girl band have any singles out yet? Would love too listen to it.
nice one lady did not know they had a naijasista on 24 i am pleased
d "naija's next top girl band"..do you have their video or somn'..i'll love to watch dat

nice blog, btw
great job from my girl!!!
Which kind Pink Jackets be Dat!!!!!...lol Sorry I could not resist ooo!!...hahaai!

Nigerians always making me smile with pride.. any profession you will find them always excelling!!..
Thanks NV Nice post!!..
Ms. Vixen, please, let us know the name of our pink coat wearing girl group. I read the post twice and still don't see a name. I would love to hear or see their work.

I was just talking about the lack of girl groups in Nigeria. I can name at least 3 boy bands but no girl groups.

Anyway, it is always great to see Nigerians excel and be respected in their chosen profession. helps make up for the ones that are slacking and give foreigners the guts to defame all Nigerians. There are so many Nigerians, here in the U.S., that receive high regard inprofessions such as law, business, medicine etc. Keep up the great posts!
Nice spread. I have never heard of them and you did not post their name.
@Naijadude--u lyk d jacket?u sure?we can hav one made for you especially oh!!!
@CNG--thank you,they dont have a website up and running just yet,nd i'll put up their music real soon
@CalabarGal--thank you,and the good thing is they are getting well known,Ice4 havnt officially released a single yet...still doing live performances...getting some publicity
@Naijagal--thanks,it's good isnt it?Megalyn was in a few episodes of the show
@Omodudu--thank you!!!
@Tee--thank you!and as soon as Ice4 release material,we'll let you knw.
@Omo Naija--thanks oh,my blog sister!
@Abujababe--thank you!sumone finally mentioned sumthin bout the jackets oh!but hey,hopefully they'll look back someday and cringe at that pic;-)Naijas are the greatest!!!*swelling with pride*!!!
@Solomonsydelle--sorry,i thot i put it up there...oops!so yeah they are called Ice4 and according to reports are quite good,so i'll put up their music real soon...it's a shame there are no girl bands in nigeria...nd it felt good to celebrate excelling nigerians instead of the usual dodgy citizens...thank you!!!
@Simply Gorgeous--:-0,im so sorry,i really am...they are called Ice4 and i've updated the post now...
Oh,howz everyone doing?;-)
Looking forward to Ice4's music then.

I'm a big fan of Chiwetel Ejiofor..
ewwwww@Naijadude tell me you didn't just say you liked that pink pleather strange creation!!!
I sha love this writeup saw sophie in hotel rwanda and was incredibly impressed
Haba Ms. NaijaVixen, see as you come whet all our appetite and no come produce de main course?
We are expecting more details of these girls O! I recently commented about
the lack of girl groups in Nigeria
. I'm sure like solomon said, we can all probably name at least 3 Naija boy bands but few if any girl groups. Does the society frown on it?
@Nilla--I will get their music for you as soon as possible...and Chiwetel is a great actor.
@ONB--oh yeah he did!he said he lyked it!and thank you oh..Sophie is great!
@Kush--no too vex abeg,we'll get their stuff out for you ASAP!
I read somewhere that Carmen Ejogo has issues being black and wants nothing to do with Nigeria. If that is the case I suggest Nigerians ignore her and stop giving her free publicity.